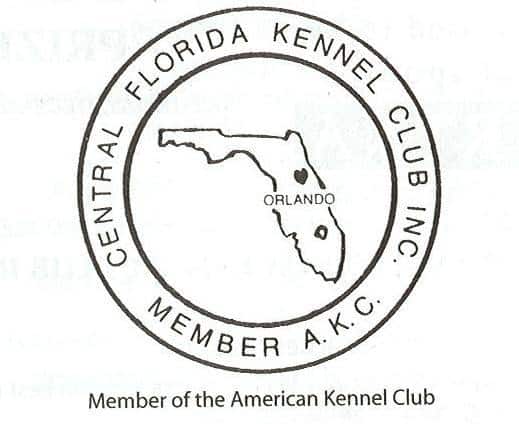 CENTRAL FLORIDA KENNEL CLUB, INC.
Member: The American Kennel Club, Inc.
P.O. Box 951666 Lake Mary, FL 32795 - Phone 407-671-7440
Purpose & Mission Statement
The objects of the Club according to ARTICLE II shall be:

a. To further the advancement of all breeds of pure-bred dogs.

b. To do all in its power to protect and advance the interest of all breeds of pure-bred dogs and to encourage sportsmanlike competition at dog shows and obedience trials.

c. To conduct sanctioned matches, dog shows and obedience trials under the rules of the American Kennel Club.

The corporation shall have the power to do any and all lawful acts and things and to engage in any and all lawful activities which may be necessary, useful,suitable,desirable or proper for the furtherance, accomplishment, fostering or attainment of any or all of the purposes for which the corporation is organized.
Meetings of the Club are held the Third Tuesday of each month, at such hour and place as designated by the Board Of Directors.
Central Florida Kennel Club presents two AKC All-Breed dog shows a year on the 44th weekend in November and 50th weekend in December. For 2020 our shows are held on NOV 5,6,7 2021 at the Greater Ocala Dog Show Grounds.
Our December 14,15,16 2021 shows will be at the NORTH/SOUTH Orlando Convention Center in Orlando, FL.


PLAN AHEAD: November Ocala Shows 2022: NOV 4,5,6, 2022

December Orlando Shows: DEC 13,14,15, 2022.
Visitors .Copyright CFKC,Inc. & LGR Enterprises.
Website hosting and domain registration powered by DomainNameSanity.com