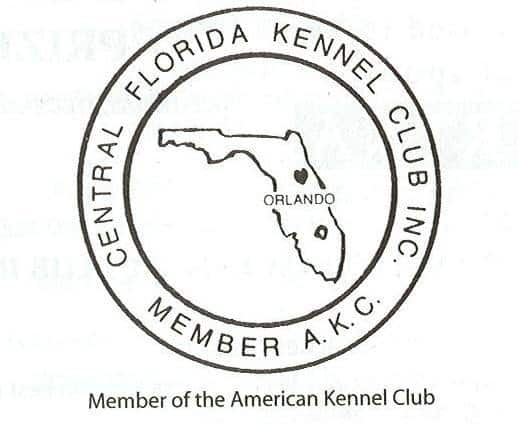 CENTRAL FLORIDA KENNEL CLUB, INC.
Member: The American Kennel Club, Inc.
P.O. Box 951666 Lake Mary, FL 32795 - Phone 407-671-7440
ORLANDO CLUSTER NOVEMBER 2,3,4, 2018
NOVEMBER All-Breed Shows Closing OCTOBER 17, 2018.
Orlando Cluster December 11,12,13,2018


CLOSING DATE: NOVEMBER 21, 2018 WEDNESDAY

EARLY CLOSING!!!!!
Judging Panel Space Coast KC Tuesday, 12-12-2017
Judging Panel Brevard KC Wednesday 12-13-2017
Judging Panel Central Florida KC Thursday 12-14-2017

ENTER ALL-BREED SHOWS AT MBF SITE-LINK ABOVE.


TUESDAY: Supported Entry:


WEDNESDAY: Supported Entry:


THURSDAY: Supported Entry:




DESIGNATED SPECIALTIES:



CONCURRENT SPECIALTIES:
Greater Tampa Bay Collie Club.



Friday 12-14-2018: Specialties,2 Group shows(Working & Herding), NOHS Finals, and Agility. See AKC site for list of Specialties.
AKC/RC All-Breed Puppy& Junior Stakes

Saturday & Sunday: Meet The Breeds

Tuesday-Sun : Dock Diving Dogs!

Wed-Sun: Obedience

Fri-Sun: Agility

Judges Seminars: ? Groups
Tues thru Fri

NOHS: Tues-Sun


AKC National Championship sponsored by ROYAL CANIN
SATURDAY & SUNDAY December 15-16, 2018

ENTER AKC SHOW AT ONOFRIO SITE.

ONOFRIO

AKCNC INFO PAGE
Visitors .Copyright CFKC,Inc. & LGR Enterprises.
Website hosting and domain registration powered by DomainNameSanity.com