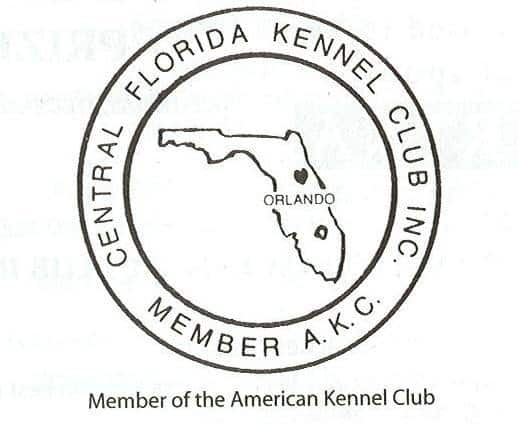 CENTRAL FLORIDA KENNEL CLUB, INC.
Member: The American Kennel Club, Inc.
P.O. Box 951666 Lake Mary, FL 32795 - Phone 407-671-7440
PLAN TO ATTEND THE AKC/EUKANUBA NATIONAL CHAMPIONSHIP TO BE HELD IN ORLANDO THIS DECEMBER 8 THRU 13, 2015 AT THE ORANGE COUNTY CONVENTION CENTER.


SPACE COAST KENNEL CLUB TUESDAY 12-08-15
BREVARD KENNEL CLUB WEDNESDAY 12-09-15
CENTRAL FLORIDA KENNEL CLUB THURSDAY 12-10-15.

Friday 12-11 will be SPECIALTIES, Special Attractions, The Eukanuba Breeder's Stakes Finals and the AKC Owner-Handler Series end-of-year competition. Specialty Clubs may contact Peggy Hauck at peguy@bellsouth.net or Michael Canalizo at mlc@akc.org or 212-696-8213.

AKC/EUKANUBA NATIONAL CHAMPIONSHIP
SATURDAY & SUNDAY 12-12-15 & 12-13-15
Also AKC Meet The Breeds, Celebrate Dogs, and Best Bred-By-Exhibitor competition.


A WEEK OF FABULOUS SHOWS, DOGS, FRIENDS, JUDGES AND PARTIES!

MARK YOUR CALENDARS! Go to www.akc.org and click the link for AKC-Eukanuba National Championship for info on Hotels, RV parking etc. or see link below.

Please Note: All-Breed Shows are MB-F.

AENC is Onofrio.



JUNIOR SHOWMANSHIP BEST OF THE BEST SCHOLARSHIP COMPETITION
In Memory and on behalf of the Diane J Albers Memorial Scholarship Fund

The 3 Best Juniors from the 3 All-Breed Shows will compete for Scholarship Prizes on Thursday!!!
Check the Premium List for Full Details!!!


Click for AKC WEBSITE



Click for Judging Panel AENC

Diane J. Albers 02-18-1943----12-20-2008

"A Giant Has Fallen"
Purpose & Mission Statement
The objects of the Club according to ARTICLE II shall be:

a. To further the advancement of all breeds of pure-bred dogs.

b. To do all in its power to protect and advance the interest of all breeds of pure-bred dogs and to encourage sportsmanlike competition at dog shows and obedience trials.

c. To conduct sanctioned matches, dog shows and obedience trials under the rules of the American Kennel Club.

The corporation shall have the power to do any and all lawful acts and things and to engage in any and all lawful activities which may be necessary, useful,suitable,desirable or proper for the furtherance, accomplishment, fostering or attainment of any or all of the purposes for which the corporation is organized.
Meetings of the Club are held the Third Tuesday of each month, at such hour and place as designated by the Board Of Directors.
Central Florida Kennel Club presents two AKC All-Breed dog shows a year in June and December.
OUR NEXT JUNE DOG SHOW WILL BE HELD: Thursday,June 18 thru June 21, 2015 at the Central Florida Fairgrounds, Orlando, FL. To Enter: go to MB-F Dog Shows at link below.

Also at the same site will be:


Specialties on Thursday, June 18, 2015.

Silky Terrier Club of Central Florida
John Triplett, Show Chair jtriplett@aol.com

Orlando Poodle Club
Show Chair: Leslie Pope-Hall
blctie@aol.com

Suncoast Cocker Spaniel Club Of Greater Clearwater
Susan Gordon, Show Secretary
mail@gordonshowsec.info



The Brevard Kennel Club will be on Friday, June 19, 2015.

Central Florida Kennel Club will be on Saturday, June 20, 2015.

The Space Coast Kennel Club Of Palm Bay will be on Sunday, June 21, 2015.



INFO FOR UPCOMING SHOWS DECEMBER 8,9,10, 2015



Click for InfoDog site
Click for Judging Panel-CFKC DECEMBER PANEL-THURSDAY
Click for Judging Panel-BKC DECEMBER PANEL-WEDNESDAY
Click For Judging Panel-SCKC DECEMBER PANEL-TUESDAY
Visitors .Copyright CFKC,Inc. & LGR Enterprises.
Website hosting and domain registration powered by DomainNameSanity.com